This is delete your account of the HealthCare Locator Site where you can manage your information and consent.
Are you sure? Would you like to get more information on our services?
The latest HCP data. Fast.
The HealthCare Locator SDK can connect any mobile or web health app to the world's most comprehensive source of real-time healthcare data—which includes trusted records for 23 million healthcare providers (HCPs) and 2.6 million healthcare organizations (HCOs) worldwide, with thousands of daily updates. Now you can seamlessly integrate our open source SDK into your own my Health apps and websites, giving your users HCP Finder tools that offer the most up-to-date access to the healthcare they need, when they need it.
Find HCPs accurately
Your app or website will offer the most up-to-date provider data by location, name, or speciality.
Access HCP profiles
Your users can review more detailed profiles, including specialty, location, and all contact information
Share HCP profiles
Users can use SMS or email to share profiles with friends and family
The same great experience on every device
The same great experience on every device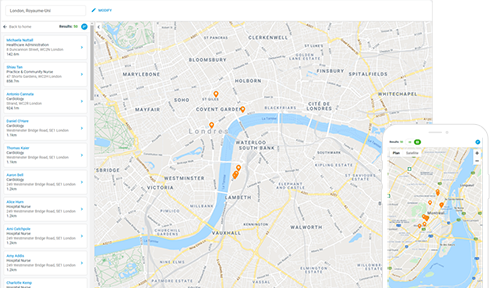 Allergy Plus increases user engagement with new provider search module
Allergy Plus is the number one most-used mobile application for allergy care on the U.S. market with features like air quality reports, a national allergy map, and a symptoms diary. In 2021, Pollen.com used the IQVIA HealthCare Locator SDK to build a module to help patients easily find and connect with local allergists, providing a more complete in-app allergy care experience.
Only pay for what you use